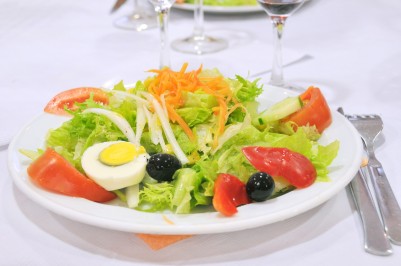 Eat and drink in a manner beneficial to your body
I Corinthians 3: 16-17 (ESV) tells us:
 16 Do you not know that you are God's temple and that God's Spirit dwells in you? 17If anyone destroys God's temple, God will destroy him. For God's temple is holy, and you are that temple.
Our Pastor George Akhigbe recently taught us the difference between the "reality" of certain symptoms of ill health that we perceive, and the truth, which is that as children of God, we can lay claim to perfect health by virtue of the fact that Jesus, our Lord and Savior, died for our sins, and that by His stripes, we are healed.  (I Peter 2:24.) If we exercise the power that we possess as children of God to decree healing in our bodies, we will be healed.   My brothers and sisters in the Lord, I put it to you that we can ensure that "reality" lines up with the truth by obeying God's mandate, which is that we take care of our bodies, as temples of the Holy Spirit. We pray for healing and flock to healing and deliverance services, when the truth is that we have the power of healing in our hands, not just by decreeing in prayer that our bodies are healed, but, in certain situations, by taking the necessary actions to aid healing, and even to prevent ill health in the first place.
We need to grow spiritually and strengthen our inner minds. In addition, when we are weary and weak, God will rejuvenate us and we will soar like eagles (Is. 40:29-31). However, we have to play a role in taking care of ourselves physically. It is our sacred duty as Christians, in whom the Holy Spirit resides, to pay attention to our bodies, which is God's temple. This is the mandate that God gives us; we do not have a choice in the matter if we wish to be obedient children of God. As we go about our work building the Kingdom of God, it is imperative that we take care of ourselves so that we will have the strength and health to be effective in doing God's work. 
If we ask God for wisdom, knowledge and understanding, He will grant such to us (2 Chronicles 1:8-12). We have to use the wisdom He gives us accordingly to do the following things:
Eat and drink in a manner beneficial to our God-given bodies and make healthy nutritional choices in food preparation and consumption
 Get adequate rest

Exercise
Minimize stress; and
Lose weight, if necessary, and maintain a healthy weight.
At the end of October, I presented a seminar paper in Chicago on Taking Care of the Temple of God: Making Wise Nutritional Choices.  I am ashamed to say that in recent months, I have barely practiced what I preach.  I have found, like the Apostle Paul, that "I have the desire to do what is good, but I cannot carry it out." (Romans 7: 18, NIV).  I can relate to what Paul says in Romans 7:23 (Amplified Bible):
23But I discern in my bodily members [in the sensitive appetites and wills of the flesh] a different law (rule of action) at war against the law of my mind (my reason) and making me a prisoner to the law of sin that dwells in my bodily organs [in the sensitive appetites and wills of the flesh].
I am almost certain that some of the poor health symptoms that I currently perceive in myself, like painful knee joints, would go away if I consistently followed God's directions for healthy living. However, with 2010 fast approaching, I have determined to make a permanent commitment to healthy living. I hope that you will make a similar determination to make changes in your life where necessary.  Join me every week as I offer guidance on how we should take care of ourselves, and also share with you my struggles and triumphs in taking care of the precious temple of God. Next Sunday, I will discuss how to make wise nutritional choices.
Taking Care of the Temple of God

,